8 Days of 808
A celebration of the Drum Machine that changed everything.

On 8.08.17, we launched Splice's first content marketing campaign to celebrate the Roland 808 Drum Machine. Over an 8 day campaign, we released content that highlighted every Splice product — from the sample library and digital collaboration tools, to our in-browser beatmaker. At the end, we even gave one away (yes, a real one).

Campaign sizzle reel ︎

The Splice Beat Maker let's you build beats and test sounds right from your browser.
Try it out
. ︎
The goal was twofold: (1) to generate buzz around the company, and (2) to prove internally that content marketing was an important channel for Splice to invest in. We didn't want to just create editorial content; we wanted to create content that encouraged people to try Splice products, demonstrating what they could create.
The 8-day content campaign took the shape of technical dives into classic 808-driven songs like Marvin Gays "Sexual Healing", a Q&A with a Grammy winning producer Bob Power (A Tribe Called Quest, D'Angelo), and historical overviews and editorial takes on 808 related topics.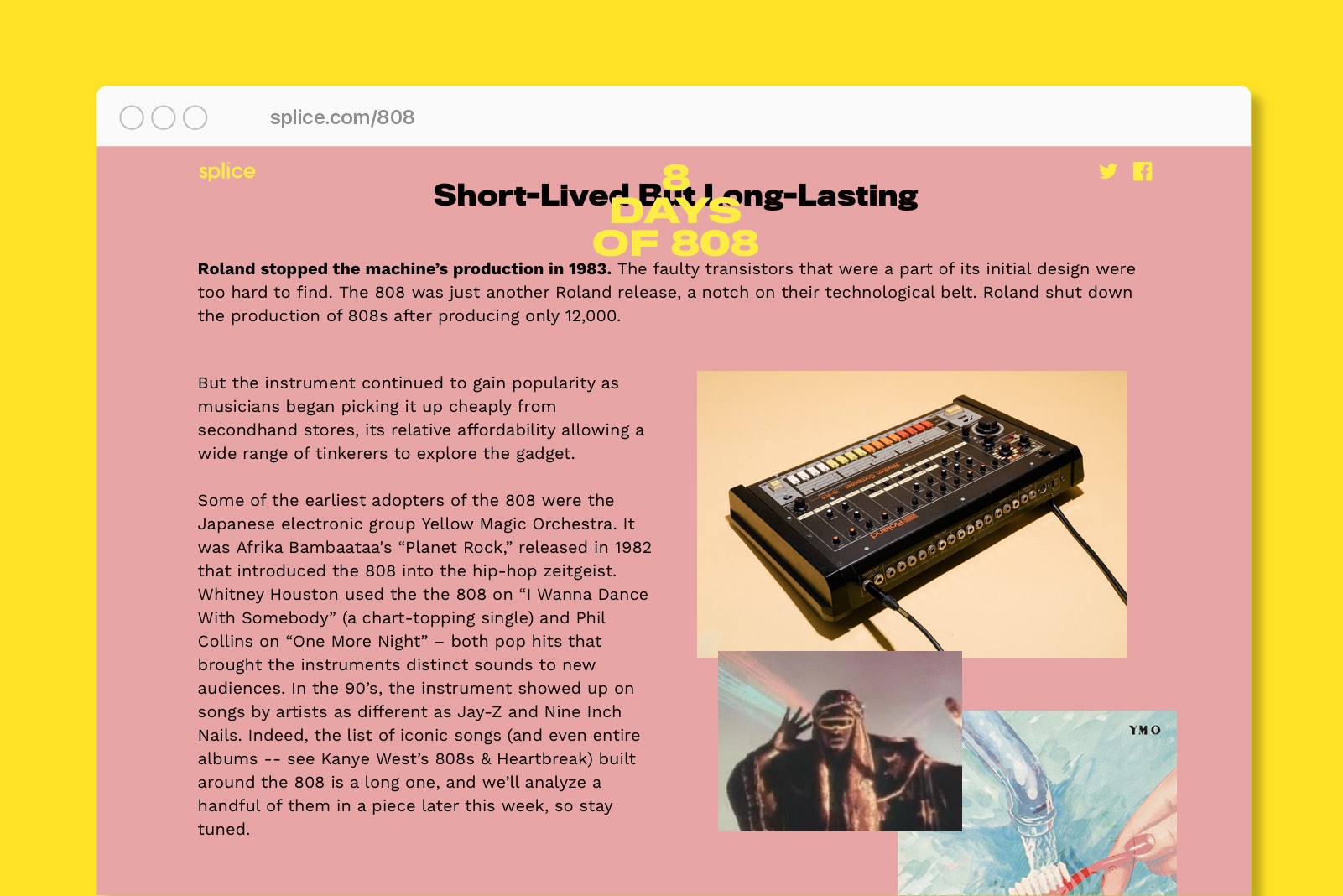 The campaign generated buzz across our community, reached new eyes via press from XLR8R, DJTimes and Rekkerd, and collected thousands of unique and active email addresses. Plus, one lucky aspiring producer from Massachusetts got his very own 808. However, above all, it proved to us that content marketing was worth it.
---
My Role ︎


Campaign Development, Creative Direction, Design, Copywriting, Project Management, Copy Editing
Credits & Collaborators ︎

Creative Direction
Chris Muccioli

Design & Web Development
Jay Schaul

Photography
Daniel Dorsa






Copywriting
Laura Zax

Content Marketing Manager
Reuben Ramen